On the Path of Marigolds: Living Traditions of Mexico's Day of the Dead (English/Spanish bilingual edition)
by Ann Murdy
essay by Denise Chávez and interview with Cesáreo Moreno
2021 Southwest Book Design Awards Best Photography/Art Book, Best Bilingual, and Best in Show for a hardcover book! (New Mexico Book Association)
2019 Winner of the Gold Medal for Best Multicultural Book of the Year Foreword INDIES Award! (view pdf certificate here)
Finalist for Best Art Book of the Year from Latino Literacy Now's 2020 International Latino Book Awards!
Honorable Mention for the Best Arts Book category of the International Latino Book Awards.
Finalist for Best Multicultural book of the year award from the annual New Mexico/Arizona book awards.
One of the most enduring portrayals of Mexico's famous Day of the Dead ceremony!
Ann Murdy has been photographing the celebrations around Day of the Dead (Día de los Muertos) in México for more than twenty years. A native of southern California and now based in Santa Fe, New Mexico, she first started collecting Chicano art during the 1990s and was drawn to México by the vibrancy of its culture and traditions. She loved the rich color she found everywhere, from the brilliant hues of the flowers adorning the ofrendas or altars to the dead to the dusky yellow of the marigolds lining the ofrendas and the pathways to them, whether in private homes or cemeteries.
As her hauntingly beautiful images show, in México death is considered a part of life, something to be celebrated, not feared. El día de los muertos is a time to gather with friends and families to feast, pray, dance, sing, and honor the lives of those who have died. This unforgettable book features ninety of Murdy's most stunning images of celebrations from three rural villages—Teotitlán del Valle in Oaxaca, Huaquechula in Puebla, and Lake Pátzcuaro in Michoacán—along with a conversation between her and Cesaréo Moreno, Director of Visual Arts and Chief Curator of the National Museum of Mexican Art in Chicago, and an essay by Mexican-American writer Denise Chávez, whose work celebrates the border corridor of southern New Mexico, West Texas, and northern Mexico.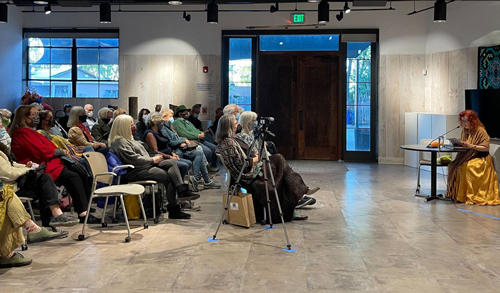 October 2021 slide show, lecture and book signing at IFAM