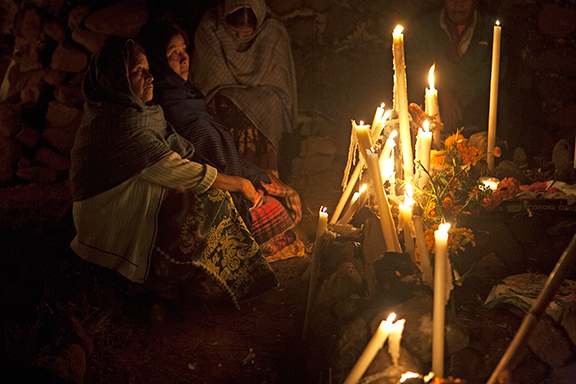 ©Photography by Ann Murdy

México opened up a world of color to me when I made my first visit to Oaxaca, México, in 1991 to experience Day of the Dead (Dia de los Muertos). I was greeted with a profusion of color from the fresh fruit and vegetables when I entered the markets, which included pastel-colored agua frescas (non-alcoholic fruit drinks) in large glass jars, stacks of quesillo cheese wrapped up like balls of yarn, various brands of mezcal in glass bottles neatly lined up in shelves, and plaid plastic shopping bags hanging from the ceilings. Indigenous women in plaid pinafores wearing huaraches with their hair in braids were constantly trying to get me to buy chapulines (fried grasshoppers) and clayludas (oversized thin tortillas), as I navigated my way through many of these markets. My sense of smell was stimulated by the freshly baked pan de muerto (bread of the dead), homemade chocolate, chilies, chunks of copal incense, and the pungent scent of the marigold flowers.

Everything was exotic, as one rarely gets the opportunity to shop in markets such as these in the United States. Throughout the town there were altars in public places, festive embroidered clothing worn by the indigenous people, silver milagros hanging on velvet from the sides of the altars, antique statues of the saints gloriously greeting me when entering the sacred spaces, glided ceilings with carved figurines in the colonial churches and stacks upon stacks of marigold flowers being sold to adorn the graves and altars. I was overwhelmed by the beauty of the colonial architecture, cobbled stone streets, pre-Columbian ruins, ancient history, the devotion of faith and the spirituality that goes into the this celebration of life known as Day of the Dead.

My most profound experience was the first time I went into a cemetery at night, which was only lit by candlelight, and saw the local people keeping vigil by the graves of their loved ones. It was an ethereal experience that completely overwhelmed me by touching my inner being. I was walking on scared ground, as I saw families picnicking, laughing, drinking, and burning copal over the graves. All of the graves were elaborately decorated with flowers, candles and food. It was magical, serene, soulful, and joyous. Some families hired musicians to serenade the dead with their favorite songs. It was a fiesta that was full of life. It was the complete opposite of what one would experience when we visit the tombs of our loved ones in the U.S., which, for me, tend to be cold, empty places completely lacking in color or joy. No one was crying. I could feel such a sense of love, warmth, and devotion within this place. It opened up a brand-new world to me.

Due to this reaction, I was compelled to return again and again. Each visit was enriched by new traditions and experiences. I witnessed people who welcomed a total stranger into their homes to photograph their home altars with open hearts and big smiles on their faces. They insisted that I sit down in front of the altar and partake in the fiesta by enjoying a cup of hot chocolate, eat some pan de muerto, and have a mezcal or beer. The generosity of these people was sincere. It came from the heart.

This sense of kindness exists all over México, no matter what time of year when I am there to take photographs of cultural events. It is real. It is genuine. It has enriched my life and shown me a place that is truly special. I am so grateful for all of these experiences and the opportunity to partake in the spirit of México.

Copyright © 2019 Ann Murdy. All rights reserved.