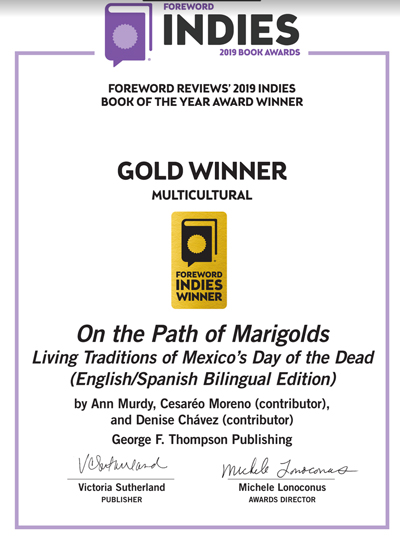 "It's a gorgeous photography book. The photos are accompanied by informative essays about what's taking place in the photos. It's also bilingual, which is wonderful. I really appreciate books that are written both in English and Spanish. The book has won multiple awards..."
—Regina Marchi, Five Books
"At a time when blockbuster animated films have made the Mexican observances of dia de los muertos part of American pop culture, Ann Murdy transports us into the distinct, real-life, solemn practices and rituals deep in the heart of Mexico. With brilliant, somber, and heart-stopping photographs, Murdy opens a portal into the dignified private and public spaces created by humble residents to honor the dead. On the Path of Marigolds highlights the various ways rural Central Mexicans in three communities celebrate the lives of those departed through thoughtfully framed, meaningful portraits of the altars and commemorations that communicate how communities and individuals make these remembrances simultaneously personal and public.
"From the altar of the infant Gerardo Alexis in Huaquechula, Puebla, with toys, breads, juice, fruit, milk, and yogurt to the vividly intricate sand carpets in the churches and homes of Teotitlán del Valle, Oaxaca, to elaborately decorated graveyards surrounding Lago de Pátzcuaro, Michoacán, Ann Murdy showcases these public celebrations of the sacred and personal. Denise Chávez's introductory essay wonderfully places these pictures and dia de los muertos into context, allowing us to better understand the significance of these photographs. This book should be in the hands of everyone interested in Mexican and 'Mexican-American' culture."
—Michael D. Innis-Jiménez, Professor of American Studies at the University of Alabama, series editor of Latinx Histories (University of North Carolina Press), and author of Steel Barrio: The Great Mexican Migration to South Chicago, 1915-1940
"Ann Murdy looks at worlds rarely seen and peoples rarely photographed, and we are all the better for it. She has dedicated her life and her considerable talents to showing us the ceremonies and devotions of the people of rural México. She brings a caring and sensitive lens to her subjects; she holds an honest mirror to their devotions. This is very important work not just for now, but for years and centuries to come."
—Steve Northup, former photographer for UPI, The Washington Post, and TIME Magazine
"Ann Murdy's photographs delight the sense of sight and are also a virtual 'scratch and sniff' of Day of the Dead traditions across México. One enjoys the tempting scents of fresh-baked pan de muerto breads and tortillas, sweet and savory mole, as well as potent wafts of copal incense and pungent cempasuchitl flowers. On the Path of Marigolds takes the armchair visitor not only to public spheres in markets and cemeteries, but deep within personal and profoundly moving familiar rituals that take place in private homes. The depth of Murdy's works is sure to enlighten for years to come."
—Rebecca D. Meyers, Permanent Collection Curator, National Museum of Mexican Art
"Ann Murdy, having traveled to the same communities in México for more than twenty years, offers readers an intimate glimpse into the Day of the Dead traditions. Her striking photographs document the varied aesthetics and spiritual practices of three different villages with sensitivity and skill. Through her images, she shares her own quest to understand better and foster appreciation for these age-old traditions and their contemporary expressions."
—Joyce Ice, Ph.D., Former Director, Museum of International Folk Art
"Ann Murdy's images are a unique portal into one of México's most emotional and compelling events. . . . Viva!"
—Ray Dewey, Founder of Dewey Galleries
"On the Path of Marigolds is an intimate look at how people honor those who passed on in villages of México. Every photograph has a story reaching back centuries."
—Tom Aageson, former Executive Director of the Museum of New Mexico Foundation
Read a review by Enrique Lamadrid, University of New Mexico (pdf or online)