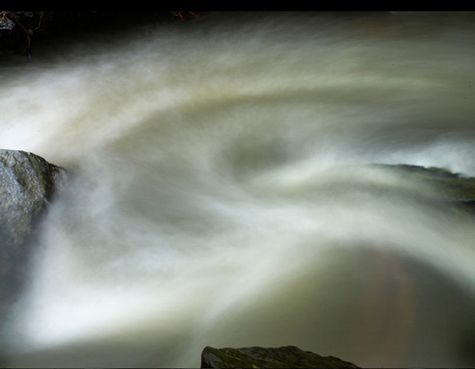 © Photograph by Tom Young, Shepard Brook

I live in the foothills in the Berkshires of western Massachusetts. Our old farmhouse is located in the rural town of Buckland, between two moving bodies of water, Clesson Brook and Shepard Brook. The land that surrounds the house is a combination of open hayfields, pasture for livestock, and forest. My studio, in the adjacent town of Shelburne Falls, sits right on the Deerfield River.

The sights and sounds of moving water are a constant in my life―always a source of both meditation and inspiration. I love the water's interaction with the calendar year, the weather and seasons here in the heart of New England. It is always changing in form, wonderfully peaceful, and, at other times, violent. I hear it and see it almost every day. It asks me to listen and to look with attention.

Likewise, the animals I live with—old angora goats—speak to me in a way that is laced with an ancient wisdom and knowingness. We call them our Talmud scholars, for their long, ring-letted fiber on the sides of their deep, watchful eyes. Gentle, quiet, and meditative in aspect, they bring me a kind of solace at the end of a busy day. The ritual of haying, feeding, and watering mark the beginning and end of each day, and the goats are there at the gate reliably, expectant, and silent.

Copyright © 2013 Tom Young. All rights reserved.