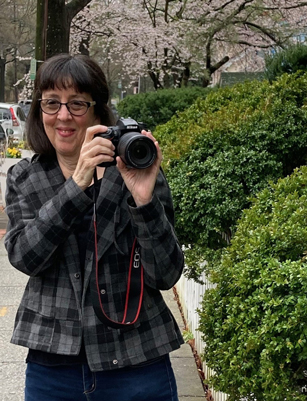 Nancy Libson walking in Washington, D.C. Photograph by Steve Smith.

One of my "special places" points to the north ... and includes areas in New England where I'm from. I especially love Vermont in the winter and Maine in the summer. Maybe that's because of my childhood memories of skiing in Vermont, gliding down the snowy slopes and heading back upslope again. My affinity for Maine is also tied to fond memories of the beautiful coastal villages where the rocky shores meet the sea and where community thrives. Maine is the place where, as a young student, I became a photographer. As Maine and Vermont became more touristed, I journeyed further north and discovered Iceland.

There's also a special internal place that is an extension of me ... which is walking. I have al-ways envisioned myself as one who walks in order to reflect and to see. In my urban home of Washington, D.C., I enjoy taking in the sights and sounds of the various neighborhoods, while being open and available to what might arise from within. Looking back, as a child, my bike riding was synonymous with walking, wind against my face, as if flying down the hills. I would takeoff and ride for hours after school, exploring the wooded country roads and neighborhoods of my hometown in Connecticut, already creating images in my mind, carefree and exhilarated.

As a documentary/art photographer who photographs communities, there's something both energizing and spiritual about walking for miles, hours at a time. My body in rhythm when exploring new places or returning to places I've been where I see the familiar in a different light; creating possibilities for meeting people and photographing a community in their "place," who share a part of themselves with me, my artistic process, and my camera as a tool for connecting.

Copyright © 2023 Nancy Libson. All rights reserved.