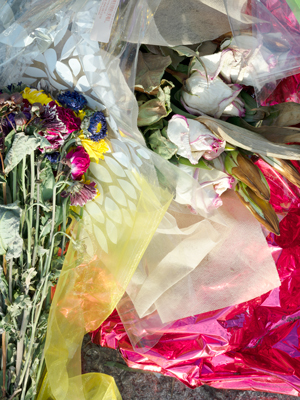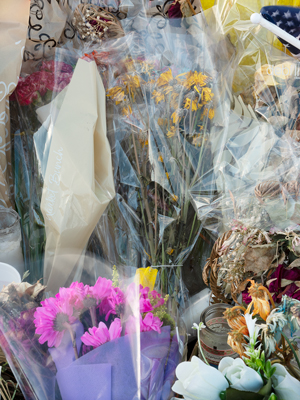 Read a letter from the Mayor of El Paso, Texas to Willis, Behn, and Rubinstein.
"Photographer John Willis and poet Robin Behn have created a remarkable body of work documenting spontaneous expressions of grief following a mass shooting. Willis focuses his lens on the profusion of floral tributes left in the parking lot outside the El Paso Walmart where twenty-two people were gunned down, combining great documentary photography with internal, pictorial logic and materiality. Behn's text amplifies Willis's tone while probing the circumstances that leave a "time-stripped, stammering void" in their wake. Her lines document the splintered narrative of the day alongside mass shooting facts, the language of gun violence, and the ongoing pain and surreality of life for the wounded. Also included is a link to exquisite, haunting "Micro-Requiems," music by Matan Rubinstein written for the series. The totality offers a portrait of the wounded heart of a community."
—Mara Williams, Chief Curator, Brattleboro Museum & Art Center, Vermont
"Immensely moving for its selection of suggestive fragments, this hybrid book manages to challenge the 'mass' implicit in 'mass shootings' as it honors each lost life and minute details of some of the countless bouquets offered in tribute. The cumulative effect of the photographs, music, and evocative, experimental poems is nothing less than fierce—the book pushes back, it refuses to turn away, it imprints intractable flaws in our culture but does so by offering us nothing less than beauty on each of its pages, creating an exquisite fabric that challenges the power of the bullet."
—Leslie Ullman, Founder of the bilingual M.F.A. in Creative Writing Program and Professor Emerita at the University of Texas at El Paso, M.F.A. faculty member at Vermont College of Fine Arts, and author of Progress on the Subject of Immensity
"John Willis's photographs are irresistible in a dark, sad way, for what he reveals in the aftermath of the massacre in El Paso are images that are all too familiar to us now: factory flowers, flowers that are weepy and dead, flowers shrouded in plastic wraps, many still showing SKU labels. Like manufactured condolence cards, their manifest expression of grief is prosaic. They suggest the inadequacy and futility of such gestures.
"Robin Behn's accompanying text feeds off the images and speaks to why the flowers that Willis photographed are even on the ground in the first place: another shooting in a gun-obsessed, out of balance nation where innocent people are randomly fired on with military-grade automatic weapons. Integrated as they are on facing pages, the photographs and text are a powerful reminder of the mass destruction.
"While Behn's text is riveting in its assertive assembly of messages and facts, Willis's photographs are, at their core, profoundly beautiful. They eschew sentimentality, transcending their stated purpose of mourning. Like a requiem, the images invite us to explore deeper emotions associated with loss."
—Stephen Westheimer, J.D.
"Requiem for the Innocent hauntingly intertwines photography, poetry, and music by three accomplished artists to honor those killed and injured in El Paso and to evoke our mourning without reinforcing the violence. This unforgettable presentation asks us to not allow it to happen again."
—Ellen McCullouch-Lovell, President of Marlboro College (2004–2015), Deputy Chief-of-Staff to First Lady Hillary Rodham Clinton, and Chief-of-Staff to U.S. Senator Patrick Leahy (1983–1994)