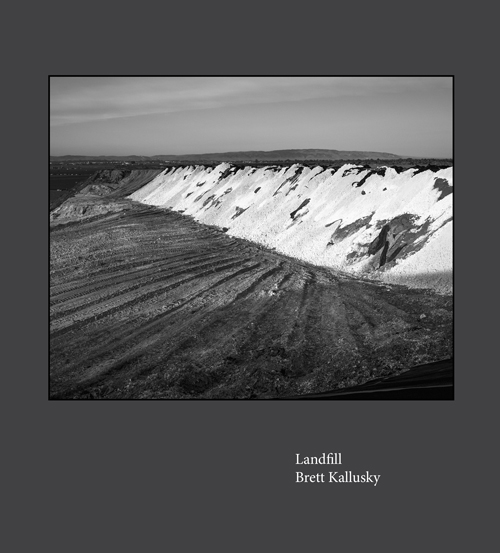 Landfill: Elegy for the Santa Maria Valley
by Brett Kallusky
with and afterword by Matthew Coolidge
A visual discovery of a land not thought of in a historic California place!

Landfill is a collection of eye-opening photographs made by Brett Kallusky in Central California's historic Santa Maria Valley, once the homeland of the Chumash people. This work directs our attention not to the world-renowned vineyards on the hillsides, a legacy of Spanish times, but to the vast agricultural production of row crops on the valley floor and to the millions of tons of plastic and agricultural waste that make their way to the regional landfill.
Kallusky's photographs reveal scenes that are literally hidden from view and public knowledge, underscoring their nature as documentary evidence of what is involved when crops are grown at a massive scale. Despite the cool formalism and emotionally detached style of Kallusky's pictures, he engages us to consider how our way of life impacts our relationship with and understanding of the land, if only by eating the Valley-grown broccoli, carrots, cauliflower, celery, lettuce, squash, and strawberries that are transported to grocery stores throughout the nation.
Given the Valley's location near the oil-rich Pacific waters outside Santa Barbara, San Luis Obispo and Santa Barbara Counties, which comprise the Valley, have had their fair share of calamitous environmental events and contaminated locations associated with oil. These include, most recently, the superfund site in Casmalia, where 4.5 billion pounds of petroleum-based and other hazardous waste were transported to a disposal facility there from 1973 until its closing in 1989, and the massive out-of-control Union Oil Tank Fires at Avila Beach in 1908 and San Luis Obispo in 1926, where three workers were killed. Kallusky renders these places anew.
Addressing the current, human-centered epoch known as the Anthropocene, the quiet but powerful images in Kallusky's Landfill bring the Valley's invisible spaces into full view, showing how industrial agriculture both supports the nation's food needs and fuels a cyclical engine of consumption, waste, and renewal. The Santa Maria landscape reveals who we are and thus serves as a microcosm of America with ramifications far beyond the Valley's geographical boundaries. What is left in the wake of that system to which we all belong? In Landfill, the landscapes we create tell it all.
$35.00 U.S. (Short discount; trade discounts available for bulk sales) E-book TBD.
Hardcover with PLC
96 pages with 46 duotones by the author, 1 historic photo,
1 Google Earth photo, and 1 map/plan = 49
8.0" x 8.875" upright/portrait
ISBN: 978-1-938086-87-8
Forthcoming February 2022
Distributed by Casemate IPM


www.casemateipm.com
E-book TBD.
Published in association with the Minnesota
State Arts Board and the Center for the Study of Place.


October 1 – 29, 2021
Exhibition Landfill: Elegy for the Santa Maria Valley
Effie R. Conkling Gallery at Minnesota State University, Mankato
October 6, 2021 at 7pm
Artist Talk in the Ostrander Auditorium with a reception to follow in the Conkling Gallery at 8pm