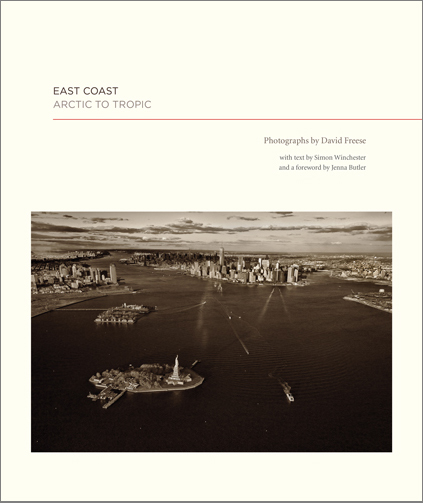 East Coast: Arctic to Tropic
by David Freese
with text by Simon Winchester and Jenna Butler
In West Coast, David Freese changed the way we see the Pacific coastline. In East Coast, he presents an equally expansive photographic sojourn from Greenland to the Florida Keys.

The East Coast of North America is a wondrous, intriguing, yet threatened coastline. It zigs and zags for more than 5,500 miles and assumes a multifaceted, jigsaw shape from Greenland and the Arctic Circle, south to the Canadian Maritimes and then into the United States, ending at the Dry Tortugas in the Florida Keys near the Tropic of Cancer. In this companion book to his compelling West Coast: Bering to Baja, David Freese once again captures a vast coastal region—one that presently faces a major peril from the rising sea brought about by global climate change.
There are wonderful surprises here. The remote regions of Greenland, northern Québec, Labrador, and Newfoundland offer breathtaking beauty that many people would not normally associate with the East Coast. And then there are the multiple towns and cities, rivers, bays, and estuaries, wildlife refuges, parks, and beaches, and other coastal landscapes that create stunning images—from the ground and from the air—that reveal their fragility in the face of a rising sea.
In addition to Freese's 188 photographs, Simon Winchester, a master storyteller, provides an informative and enlightening account of the geological underpinnings and climatic history of the Atlantic seaboard, including an ominous view of what lies ahead. Jenna Butler, an award-winning Canadian author, provides noteworthy commentary on Freese's photographs, as she places the images in context with the expansive North American environment and explains the effects and risks of global warming to the populations of Canada and the United States.
East Coast: Arctic to Tropic is a major work of art and documentation, in which Freese discovers, for all of us, the inherent beauty of nature that hearkens to the origins of Earth and to the dangers we collectively face in our coastal Atlantic homes. In East Coast: Arctic to Tropic, we experience an extraordinary sequence of photographs that tells the Atlantic tale and reveals an ocean that lies in wait.
$65.00 U.S. (trade discount) No e-book has been authorized.
Hardcover/PLC with jacket
320 pages with 188 color photographs by the author
and 1 color map
10.0" x 11.875" upright/portrait
ISBN: 978-1-938086-44-1
Published in December 2016
Distributed by Casemate/IPM (U.S. and Canada)


www.casemateipm.com
No e-book has been authorized.
The Trilogy of North American Waters: West Coast, East Coast, and Mississippi River (2020) by David Freese
ISBN: 978–1–938086–76–2 (click here for more details)
David Freese Photography
www.davidfreesephoto.net

About the Author and Essayists

May 27 to October 7, 2022
David Freese Photographs: The Geography of Climate Change
Atrium Gallery, Jane Lutnick Fine Arts Center, Haverford College, Haverford, PA
Call the gallery for hours at 610-896-1267
Tuesday, February 7 at 6 PM
The Print Center, 1614 Latimer Street, Philadelphia, PA
Book signing and presentation
West Coast: Bering to Baja Map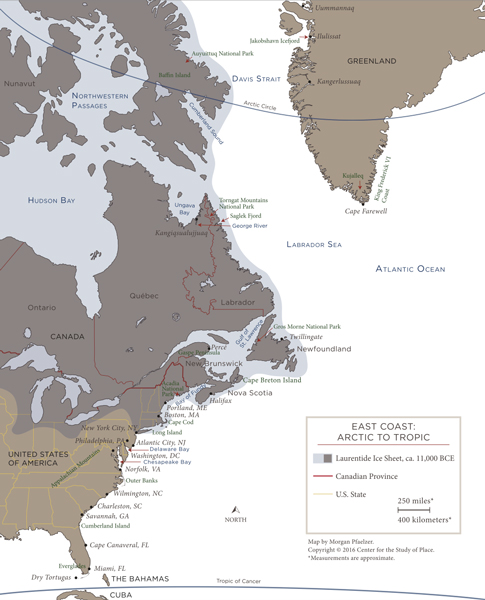 (click on image to enlarge)
© 2016 Center for the Study of Place