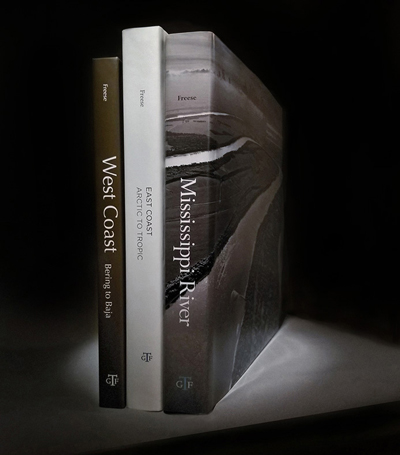 Distributed by Casemate/IPM

www.casemateipm.com
No e-book has been authorized.
$125.00 U.S.
ISBN: 978–1–938086–76–2
David Freese Photography
www.davidfreesephoto.net

The Trilogy of North American Waters:
West Coast, East Coast, and Mississippi River
by David Freese

"No photographer, artist, scholar, or writer has explored the various and wondrous landscapes along North America's major waters—its West Coast, from Alaska to Baja California, its East Coast, from Greenland to the Florida Keys, and the Mississippi River, from its headwaters in northern Minnesota to Louisiana and the Gulf Coast—until David Freese. This trilogy of books, now available at a reduced price as a set, looks comprehensively at what makes the natural and cultural landscapes of North America's coasts and America's greatest river so memorable.
Each book contains long historical essays by the renowned writer Simon Winchester, and each book is introduced by major women scholars and curators."
—Naomi Rosenblum, Jenna Butler, and Sarah Kennel
"David Freese has had a singular focus: documenting North American Waters. His first book was West Coast: Bering to Baja, followed by a look at the opposite side of the country, East Coast: Arctic to Tropic, and finally, his trilogy finds its culmination in the recent Mississippi River: Headwaters and Heartland to Delta and Gulf, which coincidently just won the IPPY Gold Medal 2021 for best Coffee Table Book.
"All three are sumptuously printed, beautifully seen and designed. What is most interesting is that these aren't simply documents of those places, but with an unerring instinct, the images are complex, classically beautiful, but never treacly. Since the time span for the three volumes covers eight years, these don't sit as a typical trilogy in terms of book design, size, and binding, but no matter—they are a testament to a singular dedication, coupled with a vision to match. His latest book continues in the same spirit, but travels to the North American Ocean in Iceland Wintertide. David Freese's books are the perfect exploration of the landscape by a master."
—Harris Fogel, Mac Edition Radio