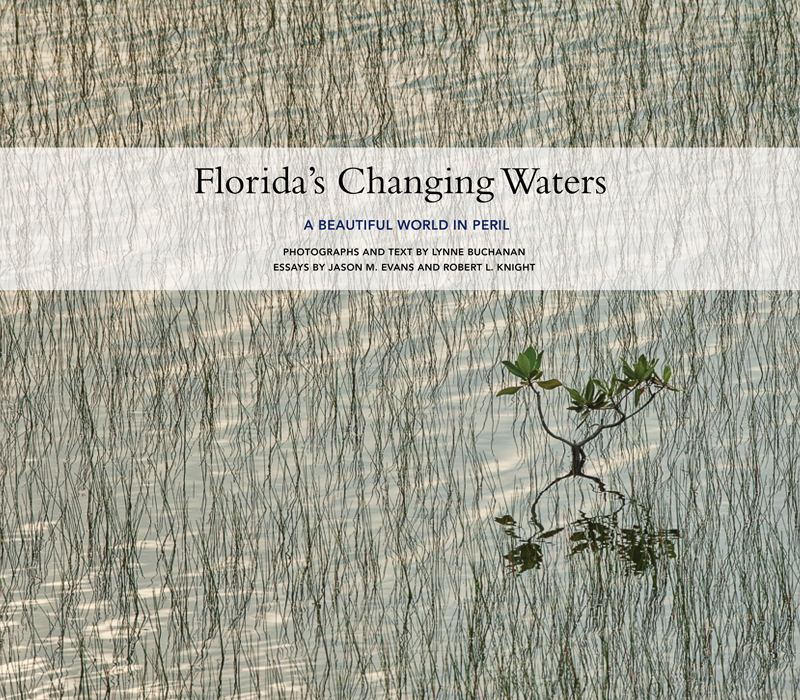 Florida's Changing Waters: A Beautiful World in Peril
by Lynne Buchanan
with essays by Robert L. Knight and Jason Evans
A pioneering look at Florida's beautiful but imperiled waters!
Lynne Buchanan began photographing Florida's waters to create artistic records of her connection with those waters and to learn lessons from being in the present moment and aligning with the flow of life. The more time she spent photographing waterways in her native Florida, the more she noticed what was being damaged and lost due to human impact. She resolved to draw attention to the situation through her photography and to work with water-quality and environmental advocates, including members of the Waterkeeper Alliance and Native American citizens fighting to preserve the integrity of their ancestral lands and drinking water.
The result is Florida's Changing Waters, which not only showcases the beauty, diversity, and complexity of Flori-da's waters, but also documents the negative effects of agricultural and industrial pollution, a growing population with its associated urban growth and land development, and climate change on Florida's inland and coastal waters and springs. Though her work is place specific to Florida, the book reveals the interconnected and global nature of environmental problems. Indeed, Florida's fragile springs, wetlands, rivers, and coastal waters can be considered tragic and powerful examples of what is happening to aquatic systems elsewhere in the nation and the world as a result of unchecked human action.
Buchanan's photographs, along with informative texts by the author and two leading scientists, invite viewers to consider their personal relationship to water and to encourage better stewardship of this vital—and finite—resource. The book is also a call to action to find more effective ways to preserve these waterways for both their natural beauty and essential role in our everyday survival.
"With unspoken irony, Lynne Buchanan's photographs expose the toxic destruction of Florida's inland waters and coastal areas in a devastating indictment of unrestrained industrialization and reckless development. She has crisscrossed the state to find and bear witness to the devastation that we might see, understand, and be moved to action to remediate the situation in this state, which is a bellwether for the rest of the country."
—Robert F. Kennedy, Jr.
"In this captivating illustrated debut, photographer and activist Buchanan chronicles the environmental damage being done to Florida's waterways, showcasing a devastating plight facing her native state. Buchanan is unapologetic and feels no need to be diplomatic, tersely stating, "In Florida, as in many other parts of the United States, development often trumps maintaining clean-water standards. Florida recently acquired the dubious distinction of having the second-worst drinking water in the nation." Photographs of untouched waterways are breathtaking, showcasing abundant wildlife and picturesque and mystic underwater realms. Yet these images evoke a sense of both foreboding and tragedy, especially in Buchanan's images of meager streams, dried up riverbeds, and ugly swaths of toxic algae slowly choking the life out of once vibrant areas. Stirring images of areas like Central Florida's Johnson Springs capture a fading beauty still visible through the muck and slime, and help reinforce Buchanan's argument that Florida's waters are rapidly running out of time. Rounding out the volume are insightful essays by ecologist Robert L. Knight and Stetson University professor Jason M. Evans, the latter noting that with climate change, "it will be impossible to return Florida's waterways and natural ecosystems to some historical 'pristine' state." Buchanan's beautifully rendered volume is a must-have for environmentalists and conservationists."
—Publisher's Weekly