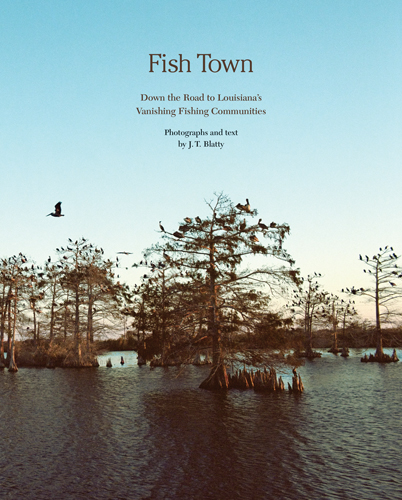 Fish Town: Down the Road to Louisiana's Vanishing Fishing Communities
by J.T. Blatty, with a concluding essay by Craig E. Colten

No book of this kind has ever been published about the more than 300-year presence of people living in coastal Louisiana.

Fish Town is a documentary project focused on preserving, through photography and oral history recordings, the cultural and environmental remains of southeastern Louisiana's fishing communities. Due to a dying wild-caught seafood industry and a rapidly vanishing coastline, the places and people who are multi-generations deep in Louisiana's fishing traditions have been quietly slipping into extinction for decades, many without a form of historic preservation. These are the same towns that have not only made New Orleans an epicenter of fresh seafood dining, but have traditionally served as getaway places for New Orleanian families, an escape to nature where time can be spent together sport fishing on the lakes and bayous and gathering around crab and crawfish boils. J. T. Blatty has been traveling "down the road" from her home in New Orleans since 2009, capturing these places and people as no one previously has.

Fish Town: Down the Road to Louisiana's Vanishing Fishing Communities includes 137 color photographs taken by Blatty between 2012 and 2017. Interspersed throughout are text narratives transcribed from audio recordings with longstanding members of the fishing communities, many of whose ancestors came to Louisiana during the late 1600s. Craig E. Colten, Carl O. Sauer Professor of Geography at Louisiana State University and author of An Unnatural Metropolis: Wrestling New Orleans from Nature, offers a compelling concluding essay about the history of the communities and Blatty's remarkable book.

Photographs from Fish Town have been published by CNN Photos and the Oxford American, and have also been exhibited at the Ogden Museum of Southern Art in New Orleans in 2012 and 2015, and the Multi-Media Museum of Photography in Moscow for the 2014 New Orleans in Photographs exhibition sponsored by the United States Embassy. Fish Town was a 2015 Lange-Taylor Prize finalist, a 2013 Critical Mass finalist, and a finalist for both the Michael P. Smith Fund for Documentary Photography and for the Clarence John Laughlin Award (New Orleans Photo Alliance) in 2013 amongst other awards. Additionally, Fish Town was the featured photo essay in the 2017 Where New Orleans Guestbook by the Morris Media Network.
$39.95 U.S. (trade discount)
Hardcover/PLC
200 pages with 137 color photographs by
the author, one black-and-white historic photograph, and one color map
8.0" x 10.0" (upright/portrait)
ISBN 978–1–938086–51–9



Forthcoming in October 2018

Distributed by University of Virginia Press