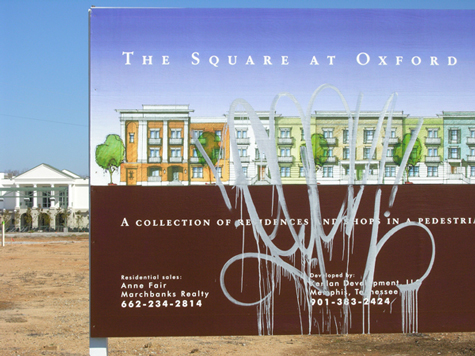 © Photograph by David Wharton, Reconstructing Oxford at the Millennium

In 1983, on the first of many drives between my new home in Austin, Texas, and my parents' house in North Carolina, I made a detour to visit Oxford, Mississippi. I had read most of William Faulkner's novels over the years and wanted to see the town that inspired the fictional Jefferson, the county seat of Faulkner's richly imagined Yoknapatawpha County. Oxford was further out of the way than I expected, and by the time I got there I was feeling hurried. So I parked the car, took a five-minute walk around the courthouse square, got back in the car, and drove away. I had no reasonable expectation of ever being in Oxford again.

And, now, I've lived in Oxford for fourteen years. I came here more as a matter of circumstance than by choice, though I'm happy to have ended up here. There's much to like about Oxford. Most of the world knows it (if they know it at all) as the home of William Faulkner, the site of the University of Mississippi ("Ole Miss" in local parlance), and the backdrop to James Meredith's 1962 struggle to integrate the university—one of the defining moments of the Civil Rights Movement. All of these legacies draw visitors to town, and most learn, often to their surprise, that Oxford has an excellent bookstore, a sophisticated college-town populace, and several good restaurants.

But I have come to know the town differently, more intimately, and on a daily basis. I know it will rarely take me more than five minutes to get from my house to my office at the university. I know enough to stay home (or get out of town entirely) on those six autumn weekends every year when the town quadruples in size because of a home football game. I know what time to leave and what route to take in order to avoid church traffic on my weekly Sunday morning trips to the grocery store. I know that much of the summer is going to be stiflingly hot and humid, that fall is usually gentle and sweet, that winter will allow the use of a fireplace for six weeks or so, and that spring will be a long, drawn-out succession of flowers, as various trees and bushes bloom, one after another. I know enough to stay away from the courthouse square on weekend nights when the university is in session because of the large number of students who will be in the town's many bars, celebrating their freedom from the parental restraints of home. I know Oxford's a good town to walk in—to the Square for a cup of coffee or a beer or to browse the front tables at Square Books—or a little further to Faulkner's grave or Rowan Oak, his restored antebellum home.

But, most of all, I like Oxford because it's easy to get out of. A five-minute drive in any direction will have me in the country—the real country: not the large-lot subdivisions with big brick houses and acres of manicured green grass but actual land and space not always made pretty but shaped and made useful by many people over many years. Scattered throughout are hamlets like Abbeville, Lafayette Springs, Paris, Toccopola, and Yocona—each with a post office and perhaps a combined grocery store and gas station, a church or two, sometimes an elementary school and/or a pre-fab volunteer fire department building. Half an hour's drive from Oxford will get me to towns like Holly Springs (north), Pontotoc (east), Bruce (southeast), Water Valley (south), and Batesville (west)—all except Bruce county seats and each with a history, culture, and society peculiarly its own. They are, no doubt, what Oxford would look like without the university.

I feel lucky to live in the cultured, historical Oxford, where people concern themselves with books, ideas, and civic improvement. I also feel lucky to have easy access to places where people don't often (if ever) think about William Faulkner, the University of Mississippi, or which coffee house serves the best espresso.

Copyright © 2013 David Wharton. All rights reserved.