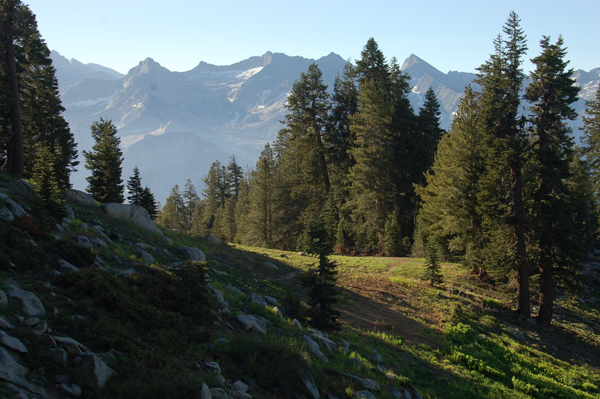 © Photograph W. Tweed
More than half a century ago as a very young man, I discovered the trails of California's High Sierra—the great alpine wilderness of the Sierra Nevada. A lifetime later, I still wander the region's high-country pathways each summer—slower now but even more entranced by the landscapes and stories they share.
Fifty-plus years represent more than enough time to develop a few High Sierra habits, and I've come to recognize one in particular. I never seem to go too long without returning to one particular campsite in the wilderness. The six miles of trail that lead me to Alta Meadow climb about 2,000 feet, just enough to give me some sense of accomplishment and separate me from what Edward Abbey long ago called "industrial tourism." The journey now takes me about four hours—walking time spent breathing rhythmically, sweating profusely, and watching the panorama around me grow to almost indescribable magnitude.
If you've never been to Alta Meadow but know the High Sierra, you will imagine the meadow as something it is not. Most sub-alpine meadows in the Sierra occupy confined forest glades, places tucked into the trees. Alta Meadow allows for none of that. Instead, it occupies an open bench on the upper slopes of one of the Sierra's greatest river canyons. My campsite, tucked in a weather-battered copse of red fir trees some 9,000 feet above the sea, is a full 6,000 feet above the incised granite course of the Middle Fork of the Kaweah River. Above me, the helmet-like summit of Alta Peak rises another 2,000 vertical feet. Light and space surround me.
The view, you might ask, What can you see? From the meadow, the full sweep of the great amphitheater that forms the headwaters of Middle Fork wraps around me. Everything that can be found within Sequoia National Park finds illustration here: serrated peaks, great glacial canyons, granite domes, endless forested ridges, chaparral-encrusted lower canyons. If I look in just the right places, the domed crowns of giant sequoia trees rise out of distant forests and mark the locations of the national park's famous groves of Big Trees.
Usually, I have the meadow to myself. Most Sierra hikers seek out either lakes or mountain summits, and this magic spot happily offers neither. Usually, the loudest sound is the wind in the western white pines.
Habit and long experience tell me how best to enjoy this wonderful place. I seek out my favorite rocks—boulders with views—and sit. The hours pass easily. Shadows shift, afternoon clouds build up and dissipate, deer wander into the meadow as evening approaches to nibble on the foliage. Every so often I move to another rock.
The recipe is simple: hike, sit, absorb; repeat as often as required.