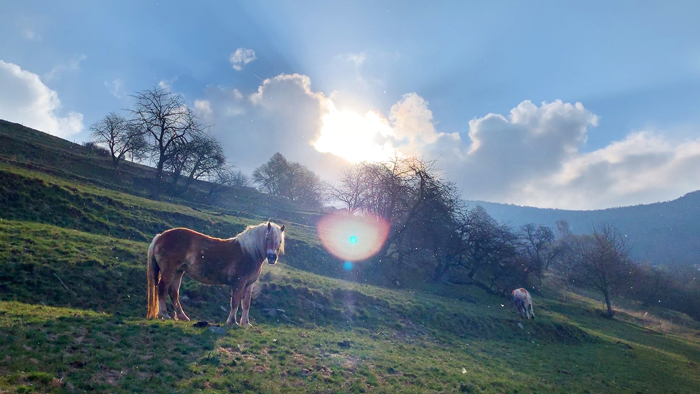 Vernamiège, Switzerland, 2019.

A few years ago I had the opportunity to have a sabbatical. I traveled to Prague for ten days, followed by another ten days to visit my ex-pat graphic designer cousin in Basel, Switzerland. Gary's long-time friend and mentor was Tom Bluhm (b. 1943). Tom had been IBM's Program Manager of Graphic Design Operations during its heyday. During those years at IBM he directed legendary freelance designer Paul Rand, and on a few occasions Charles and Ray Eames attended their design meetings. Today Tom lives in a home he designed above the village of Vernamiège, high up in the Swiss Alps. His painting studio has a view one cannot imagine. The poured concrete and glass jewel box of a place is a modern take on an old Swiss mountain chalet. Vernamiège is in the French-speaking region of Switzerland. The village has a grand total of twenty-five households within its boundaryless mountainside.

Tom is a serious cyclist. One must be, if you are going to ride when your front yard is considered some of the best altitude bike racing terrain in the Alps. When he's not biking, he's painting beautiful works.

Gary and I visited Tom for a few magical days. When I awoke the morning after our arrival, while the others were still asleep, I put on my jeans, leaving my shoes behind, and walked out one of the second-floor glass doors on to a frighteningly pitched grassy Swiss mountain hillside. Below me was the village, below that a fantastical valley, across the valley was another majestic swiss mountain. Above me was the rest of Vernamiège's mountain, with the addition of two long-coated wild horses. There were no fences. I ascended to visit the horses, careful not to slip, as the grasses were wet with morning dew. I spent maybe twenty minutes up there with my new friends. The sun had just risen over the back-side of the mountain, as light snow fell seemingly slower than gravity should allow for. This was suddenly my place.

Four years out of college, while I was living in Chicago as a freelance photo assistant, Jeff, my lifelong friend, asked me if I would like to join him on his submarine for a number of days. He informed me that I could neither let anyone know the actual reason why I was leaving Chicago nor where I was traveling to meet the sub or even when I would return. Jeff and I go back through our teen years. We shared most of our experiences together, many of which included sneaking up to Cleveland in one of our parent's cars to visit our friends.

I met the USN-757 Alexandria fast-attack nuclear submarine in Jacksonville, Florida, the night before our departure. While it was longer than a football field, I learned that ballistic submarines would dwarf it. I will never forget the smell of the air on the boat (as sailors call it). It wasn't unpleasant, but it was unusual and distinct. Modern submarines make their own air by taking in sea water, desalinating it to the point that it becomes distilled, then splitting off the hydrogen from the oxygen. The hydrogen is carefully released into the sea. The pure oxygen is then bled into the submarine's existing air. When the air is filtered through a charcoal bed, the recipe for unique submarine air is complete.

We went to sea the following morning. On the second morning, an officer awoke me from my bunk, informing me that Lieutenant Commander Coran (Jeff) was the current Officer of the Deck and that he asked to have me suited up with safety gear and brought to the bridge at the top of the conning tower to join him. On a submarine at sea, when there is an Officer of the Deck it means the 100+ submariners are under the sea's surface, while the Officer of the Deck and one enlisted sailor are on top of the conning tower navigating the sub. Needless to say, at this moment in our journey, we were no longer at depth, although we would be once again a few hours from then. After three days, after an occasionally adventurous roller-coaster of a ride, I was dropped off in Groton Connecticut. I flew home from there.

Why, you may ask, would a yoga-practicing, empathy-sensitive man of the arts consider writing about such an experience as being positively significant enough to mention it in an essay about "my place"? Perhaps this explains why. Just as the sun would crack the horizon years later in Vernamiège when I encountered the horses, the sun was beginning to show up somewhere in the landless Atlantic, directly above of the sub's bow that seemed to be splitting the sea in two. As normal air returned to my lungs, Jeff and I took it all in. Aside for the charts in front of us, and the enlisted man, binoculars in front of their eyes, continually rotating scouring the horizon, it was just us and an incredibly magnificent expanse of a maritime world. I was proud of my friend's contribution to the nation's security.

We may have spent an hour up there; I have no idea really. Time is funny on a submarine. There are no windows. There isn't even a windshield for the "driver." But what I do know is that, in that beautiful place, with my brother-like dear friend, it seemed that Jeff and I were once again sneaking off for an adventure far from our unknowing parents, and, once again, he had the keys. This was my kind of place.

For the last thirty years, I have hosted my extended family for Thanksgiving. Due to a divorce years ago, followed years later by the empty-nest syndrome, I now live in a small Craftsman bungalow. Exactly a century ago, its pieces were shipped to Cleveland via train and brought on site via truck, then assembled by local workers. While on the small side, it is filled with amazing warm wood and lovely Arts & Crafts craftsmanship. As I write this, it is the time of COVID-19. As a result, like most Americans, our Thanksgiving Day in 2020 was unrecognizably paired down. To my surprise, I expect that day will forever be a highlight of my life. Following the turkey being removed from the oven, my three adult daughters arrived with side dishes in hand and masks on faces. It was a simple yet magnificent day. We are all here: Allie, Claire, Joey, and our dog, Boulder, sharing a home-cooked meal and our company with one another. With a fire burning all day long in the den, we were together, healthy and all deeply appreciative. Somehow, by our being together within the confines of our cabin-like home, we seemed to have found the antidote to the dangers that lay beyond its walls. Of all places, this is now my place.

I know I am an introvert, but I don't need Myers or Briggs to tell me that life is not as simple as that. There is a commonality to these my places, no matter the beautiful, mundane, or exotic experiences I had. And to be a full experience, I must share it with those close to me. A place's pinnacle, and the experiences that come along with it, never truly reach me without it being a shared experience.


One of the great places of the world must be the workshop of Amnon Weinstein, the famous luthier in Tel Aviv. Violins and Hope: From the Holocaust to Symphony Hall is my way to share my experiences in that special place, making the My Place journey complete.

Copyright © 2020 Daniel Levin. All rights reserved.