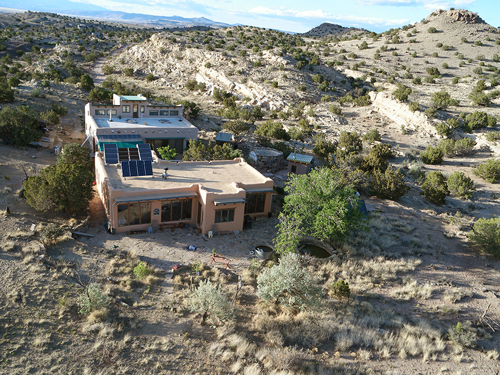 © Photograph by Luke Fitch
I was bitten by the "back-to-the-land" bug growing up in Mendocino County in northern California during the fifties and sixties. Graduating from UC, Berkeley in 1971, I hoped to some day buy rural property and build my own house on it. When I moved from Berkeley to New Mexico in 1978 to attend graduate school, I believed I was leaving the center of the world and would return to California in two years. Instead, within two weeks of my move to Albuquerque I was thrilled by the landscape and cultures of the Southwest. and never returned to the Bay Area.
In graduate school I met Lynn, my future wife, who was also enamored with the beauty of New Mexico. We were married in 1980 and that summer begin to travel around the state looking for land to buy. In the fall of 1981, while living outside of Boulder, Colorado, a friend mentioned some property that he knew was for sale south of Santa Fe. The next weekend we drove down to check it out. The land was up a bad dirt road, but it was full of character with buttes and canyons, pinyons and junipers. We loved it! I realized that, when looking for rural land, you don't know what you are looking for until you find it.
We purchased the property and started making plans to build our own mud house there using adobe bricks. Meanwhile, while walking across the land one day with a geologist friend, he casually mentioned how nice it was that we bought land in the Morrison Formation. I was taken aback: If I have a favorite geological formation, it is probably the Morrison. Some of our favorite adventures together had occurred while exploring the landscape of the Morrison: in the Badlands of South Dakota, in Dinosaur National Monument of Colorado, and in the Painted Desert and Petrified Wood National Parks in Arizona. We had not realized that the land we had recently bought was in the Morrison Formation, in particular the Brushy Basin Member of the Morrison.
We eventually built an adobe house, ourselves, over six summers while living the rest of the year in other places. In 1990 when our two sons were six and three, we moved into our newly completed house and have lived in it ever since: off the grid. We find dinosaur bones and gastroliths and prehistoric potsherds when we hike our land. I feed birdseed to the birds and keep an eye out for diamondback rattlesnakes. Our long-gone pets are buried nearby, in a grassy area where I, too, hope to be buried one day and, if luck has it, turned into a fossil.