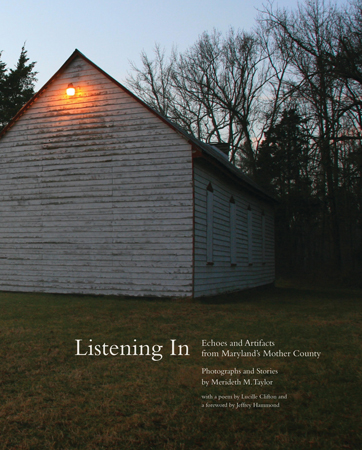 Listening In: Echoes and Artifacts from Maryland's Mother County
by Merideth M. Taylor
Foreword by Jeffrey Hammond, with a poem by Lucille Clifton

St. Mary's County is where colonial Maryland began, when St. Mary's City was established as Maryland's first capital in 1634 on the site of an ancient Yaocomico village. Southern Maryland has been home to human occupation for at least 12,000 years and, since 1634, has seen the rise and fall of tobacco agriculture with its associated enslaved labor and the shift to a modern economy based on aerospace technology. Home to the Patuxent Naval Air Station since 1942, the county is on the threshold of becoming a bedroom community to Washington, D.C., Annapolis, and Baltimore. As the area's rural character slips away, ties to the past become increasingly important.

In Listening In, Merideth Taylor provides a captivating, even pioneering approach to capturing the land and life of Maryland's "mother county." She integrates her own engaging photographs of buildings of all kinds, many of them in disrepair, with imaginative text called "ghost stories" that are based on living oral histories and relate to the photographs in one way or another. And so we gain a true sense not only of what life in historic St. Mary's County was, but also the place it is becoming.