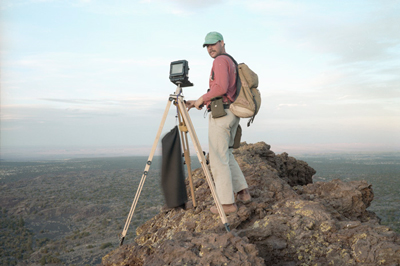 (Photograph: Scott Engel)
William S. Sutton was born in 1956 in Toledo, Ohio, and was raised in New York State, Scottsdale, Arizona, and the western suburbs of Chicago. He began his academic journey at Arizona State University, completed his B.F.A. and M.F.A. in photography at the University of Colorado in Boulder, and received a National Endowment for the Arts Fellowship in Photography in 1981. His photographs have been exhibited widely and are in the permanent collections of numerous institutions, including the Amoco Collection, Arizona State University, Bellevue Art Museum, Bibliothèque Nationale de France, Center for the Study of Place, Chase Manhattan Bank, Colorado Historical Society, Denver Art Museum, Joslyn Art Museum, Library of Congress, Museum of Modern Art, Phoenix Arts Commission, Princeton University Art Museum, Southwest Collection at Texas Tech University, University of Chicago, University of Colorado Special Collections, University of Wyoming Art Museum, and Yale University Art Gallery, among others. Mr. Sutton is an associate professor of art at Regis College in Denver, and he lives in the mountains west of Boulder, Colorado. His website is www.williamsuttonphotographs.com.
Toby Jurovics was born in 1965 in Pacoima, California, and was raised in the San Fernando Valley. He completed his B.A. in art history and English at the University of North Carolina, Chapel Hill, and his M.A. in art history at the University of Delaware. He is Chief Curator and Richard and Mary Holland Curator of American Western Art at the Joslyn Art Museum in Omaha, Nebraska. Previously, he was Curator of Photography at the Smithsonian American Art Museum and Associate Curator of Photography at the Princeton University Art Museum. He has organized exhibitions on Robert Adams, Lewis Baltz, Barbara Bosworth, and Emmet Gowin, among many other artists, and he has written seminal essays on Thomas Joshua Cooper, John Gossage, and the New Topographics. He is the author of Framing the West: The Survey Photographs of Timothy H. O'Sullivan (Yale University Press, 2010).
Susan B. Moldenhauer was born in 1951 in Chicago, Illinois, and was raised there. She completed her B.F.A. in printmaking and drawing at Northern Illinois University and her M.F.A. in photography at the Pennsylvania State University. A museum curator for more than twenty- five years, she has served since 2002 as Director and Chief Curator at the University of Wyoming Art Museum. She has curated more than 130 exhibitions, overseen more than 200 exhibitions, and produced more than thirty exhibition publications. She is also a practicing photographer whose work, inspired by the landscape and human presence, has been exhibited throughout Canada and the United States, including images from the series "Desert Varnish," "Place/Mind/Spirit," and "Compositions from the Land."