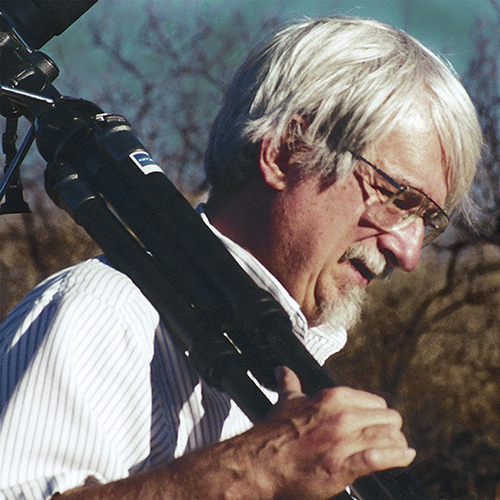 Photograph by Cynthia Lunine
ABOUT THE AUTHOR
Stephen Strom is both a research astronomer and fine-art photographer. His work, largely interpretations of landscapes, has been exhibited throughout the United States and is held in several permanent collections, including the Center for Creative Photography in Tucson, Arizona, the University of Oklahoma Art Museum, the Mead Museum in Amherst, Massachusetts, and the Museum of Fine Arts, Boston. He has published six books of photography, including three with the University of Arizona Press: Secrets from the Center of the World, with Muscogee poet Joy Harjo (1989), Sonoita Plain: Views from a Southwestern Grassland, a collaboration with ecologists Jane and Carl Bock (2005), and Tseyi: Deep in the Rock Reflections on Canyon de Chelly, with Navajo poet Laura Tohe (2005).
ABOUT THE ESSAYISTS
Alison Hawthorne Deming, an award-winning poet and essayist, is the Agnese Nelms Haury Chair of Environment and Social Justice at the University of Arizona, Tucson. She is the author of eleven books of nonfiction and poetry, the most recent of which are Zoologies: On Animals and the Human Spirit (2014) and Stairway to Heaven (2016). Her many awards include the Walt Whitman Award of the Academy of American Poets, two National Endowment for the Arts Fellowships, a Wallace Stegner Fellowship at Stanford University (1987–1988), and a 2015 John Simon Guggenheim Memorial Foundation Fellowship.
Rebecca A. Senf, Ph.D., is the Norton Family Curator of Photography, a joint appointment at the Center for Creative Photography in Tucson, and the Phoenix Art Museum. Her recent exhibitions include Debating Modern Photography: The Triumph of Group f/64, Richard Avedon: Photographer of Influence; Edward Weston: Mexico; Face to Face: 150 Years of Photographic Portraiture; and Exposing Time: Capturing Change through Photography. Senf is the author, with Stephen J. Pyne, of Reconstructing the View: The Grand Canyon Photographs of Mark Klett and Byron Wolfe (2011).