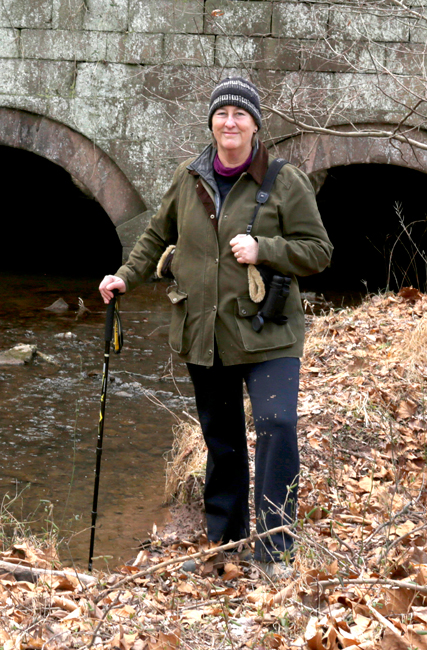 Photo by Stuart Wells
Sandy Sorlien is the author of Fifty Houses: Images from the American Road (John Hopkins, 2002). For decades she has traveled America's back roads and city streets, and the length of her native Schuylkill River Valley, photographing the built and natural environment. She has received three Fellowships in Photography from the Pennsylvania Council on the Arts, a Commonwealth Speaker Fellowship from the Pennsylvania Council on the Humanities, and 2020 and 2021 Fellowships from the Charles E. Peterson Fund of the Athenaeum of Philadelphia. She taught photography at the University of the Arts and several other Philadelphia-area schools. In 2013, she joined the Fairmount Water Works, the education center for the Philadelphia Water Department, as a watershed educator and environmental photographer. For recreation, competition, and exploration, she rowed an open-water single shell on the slackwater pools of the Schuylkill Navigation. After living 27 years near the Manayunk Canal, Sorlien moved with her husband to Rhode Island, where she rows on Narragansett Bay. Her website is sandysorlienphotographs.zenfolio.com.
John R. Stilgoe is the Robert and Lois Orchard Professor in the History of Landscape Development at Harvard University. His ten books on landscape include What Is Landscape? (MIT, 2015), Old Fields: Photography, Glamour, and Fantasy Landscape (Virginia, 2014), Train Time: Railroads and the Imminent Reshaping of the United States Landscape (Virginia, 2007), Landscape and Images (Virginia, 2005), Lifeboat (Virginia, 2003), Outside Lies Magic (Walker, 1998), Alongshore (Yale, 1994) and Common Landscape of America: 1580–1845 (Yale, 1982), winner of the Francis Parkman Prize for best book of American history. Stilgoe is a Fellow of the Society of American Historians and has received the American Society of Landscape Architects' Williams Medal and the American Institute of Architects' Medal for collaborative research, among other awards. Among his research projects are a book on elites and another on suburban adaptation to rapid climate change. He restores antique boats.
Mike Szilagyi, AICP, has served as Trail Project Manager at Schuylkill River Greenways National Heritage Area and as Chair of the North Wales (PA) Historic Commission. He has spent decades devoted to planning southeastern Pennsylvania's bicycle trail network, yielding a deep knowledge of the long-forgotten web of former railroad and canal rights-of-way built before the automobile came to dominate the landscape. A lifelong cyclist, Szilagyi is the author of Bucks County Trolleys (Arcadia, 2020) and co-author of Montgomery County Trolleys (Arcadia, 2018).
Karen Young is Director of the Fairmount Water Works Interpretive Center, the watershed education arm of the Philadelphia Water Department. Ms. Young has more than 25 years of experience developing and implementing urban environmental programs.