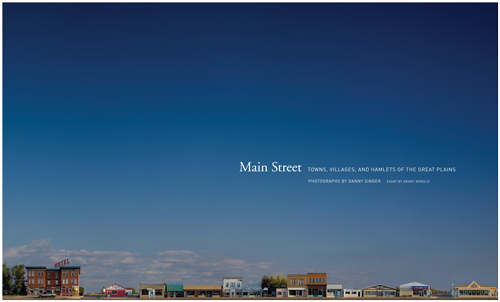 Main Street:
Towns, Villages, and Hamlets of the Great Plains
by Danny Singer
Essay by Grant Arnold
Winner of a 2014 Independent Publisher Book Award: The Silver Medal in the Canada West Best Regional Non-Fiction category.

The Great Plains is one of Earth's greatest ecosystems. Comprised of short- and tall-grass prairie, it extends from the Canadian Arctic south to Texas and from the Rocky Mountains in the dry west to the north-south corridor of I-35, I-29, and Canadian Highway 6 in the humid east. Although some of North America's great cities are located on the Great Plains―Canada's Calgary, Regina, Saskatoon, and Winnipeg, for example, and Denver and Dallas in the United States―the region is best known for its isolated small towns, villages, and hamlets whose livelihood, historically, is based on converting the native prairie into ranch land and agriculture.

Working in the tradition of documentary photography and using contemporary photographic techniques, Danny Singer here records, as no other Canadian or American photographer previously has, the main streets of those tiny settlements that define the Great Plains. In grand panoramas, we sense what it is like to live in these prairie towns that offer their residents the essential services for living―a bank, food store, co-op, gas station, post office, school, church, watering hole, public park, you name it. But when we look above and down the streets of a Danny Singer photograph, we see what lies beyond: the infinite space and big sky that not only establish the character of the Great Plains landscape, but also overwhelm all but the hardiest of citizens.

Danny Singer's Main Street offers an original and lasting view of the heart and soul of the North American Great Plains: its small towns, villages, and hamlets at the turn of the twenty-first century. Here we rediscover that, far from the maddening noise and traffic, hectic life and polluted air of the city, rural life in the hinterland still matters. A concluding essay by the renowned art critic and curator, Grant Arnold, establishes Danny Singer's place among the continent's great visual-artists of all time.
$75.00 U.S. (trade discount) No e-book has been authorized.
Clothbound with slipcase
140 pages, 41 color photographs, including 10 six-page
foldouts, by the author
15.0" x 9.0" landscape/horizontal
ISBN: 978–1–938086–07–6
Published in Winter 2013
Distributed by Casemate/IPM


www.casemateipm.com
No e-book has been authorized.
Danny Singer Photography
www.dannysinger.net

About the Author and the Essayist

Exhibition dates: November 18 - January 8, 2022
Danny Singer's New Work
Opening Reception: Saturday, November 20, 2 - 4pm
Gallery Jones Fine Arts Ltd, Vancouver, BC

Exhibition Dates: October 5 - November 2, 2019
THE FORECAST FOR TOMORROW
Opening Reception: October 5, 2019
Artist will be in attendance.
Gallery Jones Fine Arts Ltd, Vancouver, BC
March 17 - Jun, 2017
Festival of Photography at the National Gallery of Victoria, Melbourne
Saturday, April 1, 2017
Artist Talk with Danny Singer and opening reception
Danny Singer & Mike Bayne: ARTIFACT
Gallery Jones Fine Arts Ltd, Vancouver, BC
Through June 13, 2015
Exhibition: 100th Meridian
Gallery Jones Fine Arts Ltd, Vancouver, BC
May 1-3, 2015
Solo show at Paris Photo Los Angeles
Saturday, May 2 at 2:00 pm: Book signing
Gallery Jones at Paris Photo LA, Stand: New York Backlot - Stand C3
New York St, Los Angeles, CA
Saturday, November 8, 2014 from 2 to 5:00 pm
Opening Reception and Exhibition
TrépanierBaer Gallery, Calgary, Alberta, Canada

Tuesday, October 8, 2013 at 5:30pm
Book Launch & Panel Discussion
Gallery Jones Fine Arts Ltd, Vancouver, BC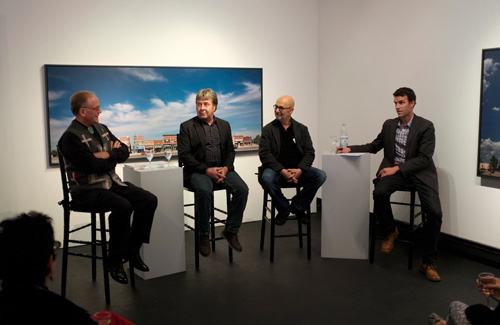 The City of Vancouver launched its inaugural photography festival called Capture 1.0 on October 1, 2013. As part of the citywide celebration of photography and lens-based art, Gallery Jones sponsored a solo exhibition of Danny Singer's groundbreaking work, Main Street: Towns, Villages, and Hamlets of the Great Plains. The show runs through October 26, 2013. Pictured here at the October 8 panel discussion are (left to right) George F. Thompson, publisher, Grant Arnold, curator at the Vancouver Art Gallery who wrote an essay to the book, Danny Singer, photographer and author, and Shane O'Brien, a partner of Gallery Jones who moderated the public event. Photograph by Michael O'Shea.

October 5 - November 2, 2013
Gallery Jones Fine Arts Ltd, Vancouver, BC