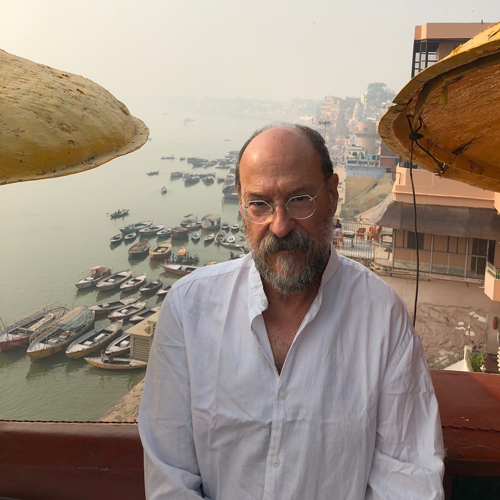 Photograph by Zac Scheinbaum
David Scheinbaum is former Director/Chair of the Photography Department in the Marion Center for Photographic Arts at the Santa Fe University of Art and Design and Professor Emeritus at the College of Santa Fe. He is the author of Bisti (University of New Mexico Press, 1987), Miami Beach: Photographs of an American Dream (Florida International University Press, 1990), Stone: A Substantial Witness (Museum of New Mexico Press, 2006), and Hip Hop: Portraits of an Urban Hymn (Damiani Editore, 2012). He and his wife, Janet Russek, have collaborated on three other projects: Ghost Ranch: Land of Light, Photographs by David Scheinbaum and Janet Russek (Balcony Press, 1997), Images in the Heavens, Patterns on the Earth: The I Ching (Museum of New Mexico Press, 2005), and Remnants: Photographs of the Lower East Side (Radius Books, 2017). Together they operate Scheinbaum & Russek Ltd., fine-art photography dealers and consultants in Santa Fe, New Mexico.
BJ Miller is an American physician, author, educator, and practicing hospice and palliative medicine physician who is well known for his 2015 TED Talk, "What Really Matters at the End of Life?" He has taught at the University of California, San Francisco School of Medicine, since 2007. In film, BJ is the subject of Netflix's Academy Award-nominated short documentary, End Game, by veteran directors Rob Epstein and Jeffrey Friedman. His book for approaching the end of life, A Beginner's Guide to the End, was co-authored with Shoshana Berger (Simon and Schuster, 2019).
Diana L. Eck is Professor of Comparative Religion and Indian Studies and Frederic Wertham Professor of Law and Psychiatry in Society at Harvard University. She is the author of Banaras: City of Light (Alfred A. Knopf, 1982), Darsan: Seeing the Divine Image in India (Anima Books, 1981), and India: A Sacred Geography (Harmony Books, 2012). As the founder and director of the Pluralism Project, she produced the Web-based resource On Common Ground: World Religions in America. On the subject of pluralism, she has written Encountering God: A Spiritual Journey from Bozeman to Banaras (Beacon Press, 1993) and A New Religious America: How a "Christian" Country Has Become the World's Most Religiously Diverse Nation (Harper San Francisco, 2001). In 1998, she received the National Humanities Medal from President Bill Clinton for her work on religious pluralism in America.