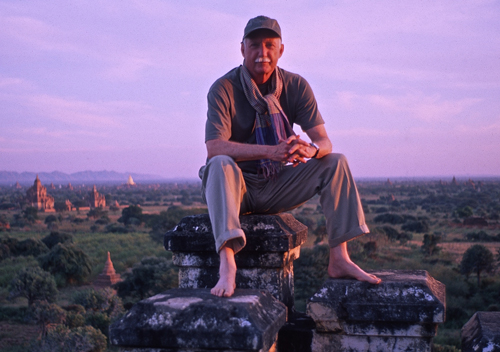 Self-portrait in Burma, 2003. Photograph © Jack Parsons.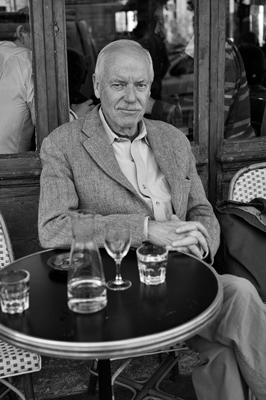 Fred in Paris, 2012. Photograph © Jack Parsons.
Jack Parsons an experienced cinematographer, is most famous for his elegant photography that captures the visual heritage of the American Southwest. He is the author of seventeen books of photography, including Santa Fe (Rizzoli, 1993), Santa Fe Houses (Potter Style, 2002), El Rancho de las Golondrinas: Living History in New Mexico's La Cienega Valley (Museum of New Mexico Press, 2009), and Dark Beauty: Photographs of New Mexico (George F. Thompson Publishing, 2014). In recognition of his unique career and contributions to the state of New Mexico, he was honored in 2006 with the New Mexico Governor's Award for Excellence and Achievement in the Arts. He lives in Santa Fe. His website is www.jackparsonsdigital.com.
ABOUT THE ESSAYIST
Frederick Turner is the author of twelve books of fiction and non-fiction, including Of Chiles, Cacti, and Fighting Cocks: Notes on the American West (North Point Press, 1990), Beyond Geography: The Western Spirit against the Wilderness (Rutgers, 1992), 1929: A Novel of the Jazz Age (Counterpoint, 2004), and Henry Miller and the Making of 'Tropic of Cancer' (Yale, 2012). The recipient of fellowships from the National Endowment for the Arts and the John Simon Guggenheim Memorial Foundation, he lives in Santa Fe.