Fire Ghosts
by Philip Metcalf and Patricia Galagan
with an introduction by Katherine Ware and essays by William deBuys and Craig D. Allen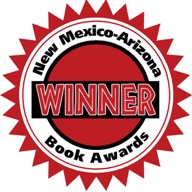 Won best New Mexico Book of the Year as well as Best Nature Book of the Year from the annual New Mexico/Arizona book awards. Runner-up as Best Visual Nonfiction Book in the Mountains and Plains Independent Booksellers Association's 2019 Best Book of the Year Awards!
Winner of the New Mexico Book Association's Southwest Book Design & Production Award in Art & Photography, and the Jim Mafchir Best-in-Show Award, 2022
An innovative way of seeing how a major forest recovers from a devastating fire!
Forest fires in the American West are becoming more frequent as well as longer in duration and more destructive. A recent study by the National Science Foundation states that human-caused warming in the West nearly doubled the area burned by wildfires during the last three decades. And because of rising temperatures and increasing drought, the forest that comes back is often unlike the one that burned in significant ways.
Photographers Philip Metcalf and Patricia Galagan saw this futuristic trend play out in the aftermath of a massive wildfire in New Mexico in 2011. While photographing the 156,000-acre burn scar of the Las Conchas Fire over seven years, they learned from forest ecologists that this forest's imperfect recovery is emblematic of what lies ahead for forests not just in the American Southwest, but in every arid zone in the world.
Metcalf and Galagan's hauntingly beautiful photographs of the aftermath of this terrible fire and its transformation into a new kind of forest will open your eyes to the new reality of climate change on Earth. Essays by photography curator Katherine Ware, environmental writer William deBuys, and forest ecologist Craig Allen will expand your understanding of what you see.
View a portfolio of images from Fire Ghosts on photo-eye here.
Shoot to Help, Santa Fe Reporter, 2022