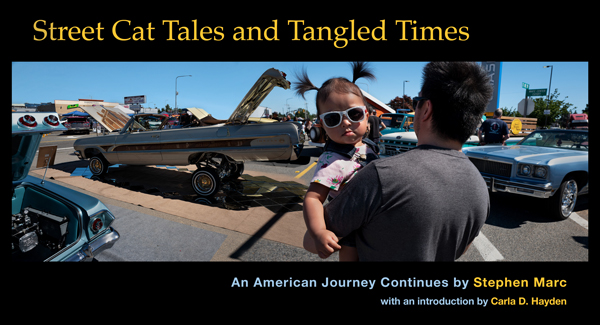 Street Cat Tales and Tangled Times: An American Journey Continues
by Stephen Marc
with an introduction by Carla D. Hayden

Published in association with the Center for the Study of Place and in collaboration with Stephen Marc.

A timely look at the U.S.A. during COVID by a decorated African-American artist and a fitting complement to the author's American/True Colors, winner of a Gold Medal for Best Book of the Year in Photography in 2021.

Stephen Marc has been creating one of the most comprehensive photographic surveys ever conducted about America and Americans. The survey began in 2007, embraced the transformational Obama and Trump presidencies, and resulted in the publication of American/True Colors in 2020. For his artistry and unique African-American perspective, the Independent Publishers Book Awards gave American/True Colors its 2021 IPPY Gold Medal for Best Book of the Year in Photography. But Marc was not finished, and in Street Cat Tales and Tangled Times he takes us on another sweeping journey, this time focusing on the years straddling COVID-19 when America and Americans were suddenly confronted by unprecedented challenges that affected citizens in every way no matter where they lived.

In Street Cat Tales and Tangled Times, we see how the four-centuries-old American journey continues. Featuring 213 new photographs by the artist, including 85 captivating digital montages, and introduced by Dr. Carla D. Hayden, 14th Librarian of Congress, the book continues Marc's creative and insightful look at how Americans express themselves and live their lives, for this book in response to the COVID years, controversial Supreme Court rulings, and ever-present impacts of mass shootings and gun violence, social injustice and climate change, inflation and political division, the Big Lie and January 6 insurrection, Russia's invasion of Ukraine and so much more.

In his afterword, Marc shares his thoughts about the America he has seen up close and personal. How, in the search for a more perfect Union, Americans still need to acknowledge and respect both the personal histories that brought all of us here and made us Americans and the truths behind the nation's layered past that need to be recognized and faced. How, in the process of dealing with many challenges, Americans still find ways to embrace the joy of living and grow and heal as families, communities, and a nation.