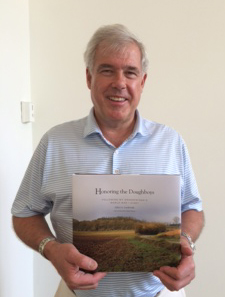 Jeff Lowdermilk holds his book, Honoring the Doughboys, for the first time at Skolkin + Chickey Studio in Santa Fe, New Mexico, on August 14, 2014. "Emotions were riding high," Jeff said, as the publication of his book is a "dream come true." Photograph by Tim Edeker and used by permission.
ABOUT THE AUTHOR

Jeffrey A. Lowdermilk is a Santa Fe-based writer, photographer, and lecturer of America's involvement in World War I and II who has traveled extensively in Europe during the past decades chronicling the two wars in words and pictures and, in turn, meeting with thousands of veterans who became friends and shared their own experiences and insights into what it was like to be there. His photographs have been exhibited widely at such institutions as the Colorado History Museum, National World War I Museum, and New Mexico History Museum, and he is the author of Saluting America's World I Heroes, a historical narrative and photographic presentation that honored the ninetieth anniversary of the Armistice.
ABOUT THE ESSAYIST

Helen Patton is the granddaughter of General George S. Patton, Jr., Chairwoman of the Patton Foundation, and the author of Portraits of Service: Looking into the Faces of Veterans. She lives in Reims, France.