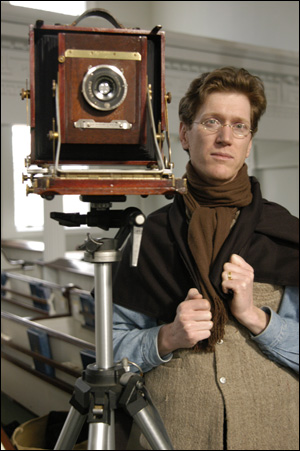 (Photograph: Deirdre Brennan)
Stephen Longmire Photography
www.stephenlongmire.com
Stephen Longmire is a photographer and writer currently based in the Adirondacks whose work focuses on the history and politics of place. His photographs are in the permanent collections of the Corcoran Gallery of Art, National Park Service, and Grinnell College's Faulconer Gallery. Longmire has written on photographic art for a wide range of publications, including Afterimage, The Chicago Reader, DoubleTake, and The Wilson Quarterly, and he has taught the history and practice of photography at Yale University, Georgetown University, and Columbia College Chicago. In 2010, he was awarded a Ph.D. by the University of Chicago for his pioneering study of the "phototexts" of Wright Morris, the acclaimed novelist and photographer from Nebraska. In his first book, Keeping Time in Sag Harbor (Center for American Places, 2007), Longmire explored the effects of the nation's last real estate boom on his hometown of Sag Harbor, New York, a storied whaling port turned summer resort near the fashionable Hamptons. That book earned the praise of the award-winning novelist E. O. Doctorow, who wrote: "Stephen Longmire has an eye for the glories of an historic village—the way its past endures in its doorways, its gravestones, its fences, its finials. This lovely and loving book, attesting to the unorganized acts of preservation that have maintained the truth of a place for 300 years, is itself a scrupulous act of preservation."
Diana Horton, Ph.D, from 1983 until her retirement in 2010 was a professor of biology at the University of Iowa. From 1983 to 2004 she was also Director and Curator of the University of Iowa Herbarium, until that plant library was transferred to Iowa State University. Dr. Horton is a plant taxonomist with a specialty in bryophytes. Her exhaustive list of plants found at Rochester Cemetery established the cemetery as among the most biologically diverse prairie remnants in the Midwest.
Aaron Wolf is a documentary filmmaker based in New York City, where he opened Urban Rustic, a grocery/cafe specializing in local foods. Woolf's 2007 film, King Corn, chronicles the year he spent on an Iowa farm and the contradictions of contemporary agriculture. His documentary on the future of Detroit, Beyond the Motor City, aired on the Public Broadcasting Service (PBS) in 2010.