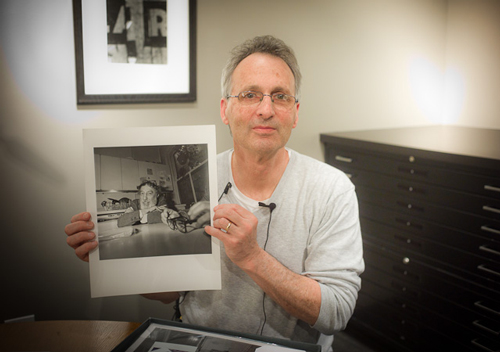 (Photograph: Michael Lutch)
Lewis Kostiner Photography
www.lewiskostiner.com
Lewis Kostiner was born in Montréal, Québec, Canada, in 1950 and was raised in Montréal before his family moved to Westbury, Long Island, in 1962. He earned his B.A. in liberal arts, with an emphasis in photography and creative writing, at Brown University in Providence, Rhode Island, where he also studied at the Rhode Island School of Design with Aaron Siskind, Harry Callahan, and Emmit Gowen. He completed his M.S. in photography at the Institute of Design at Illinois Institute of Technology in Chicago, where he studied with Arthur Siegel, Garry Winogrand, and Geoff Winningham. After he left Brown, he assisted Aaron Siskind for many years and traveled with him worldwide. From 1973 to 1981 he was an adjunct professor of photography at Columbia College Chicago, and he is currently a faculty member in the Department of Photography at the School of the Art Institute of Chicago. His photographs are in the permanent collections of, and have been exhibited at, the Art Institute of Chicago, Center for Creative Photography, Museum of Contemporary Photography, and Museum of Modern Art, among many others. Lewis is married to Anne Neri Kostiner, and they have two daughters, Rickie and Tess.
ABOUT THE ESSAYISTS
Juan Williams is a journalist, political analyst for Fox News Channel, and the author of eight books, including Muzzled: The Assault on Honest Debate (Random House, 2011), Thurgood Marshall: American Revolutionary (Three Rivers, 2000), and Eyes on the Prize: America's Civil Rights Years, 1954-1965 (Penguin, 1988), which was a companion to the Emmy Award-winning PBS series.
Roland C. Warren is the past president of National Fatherhood Initiative, a nonprofit organization dedicated to improving the well-being of children through education and the promotion of active and responsible fatherhood. He recently served on President Obama's task force on responsible fatherhood.
David Travis was the founding Curator of Photography at the Art Institute of Chicago from 1975 to 2008, where he curated more than 150 photography exhibitions, many of which traveled internationally. His many books include Karsh: Beyond the Camera (Godine, 2012), At the Edge of Light: Thoughts on Photographers and Photography, on Talent and Genius (Godine, 2003), and Edward Weston: The Last Years in Carmel (The Art Institute of Chicago, 2001).
Shipra S. Parikh Ph.D. and L.C.S.W., is a researcher and psychotherapist in private practice, specializing in children and families. She serves as an academic advisor and adjunct professor at Loyola University Chicago and the University of Chicago. Her research publications in the area of fatherhood include The Other Parent: A Historical Policy Analysis of Teen Fathers (Praxis, 2005) and Validating Reciprocity: Supporting Young Fathers' Continued Involvement with their Children (Families in Society, 2009).
Derrick M. Bryan is an assistant professor of sociology at Morehouse College. He received his Ph.D. in sociology from Ohio State University, and his current research and teaching focus on both men and families and the social, emotional, cultural, and psychological consequences of racial oppression and social inequality for persons of color (in particular, African-American males) in various domains in society (in particular, crime, education, family, and work).