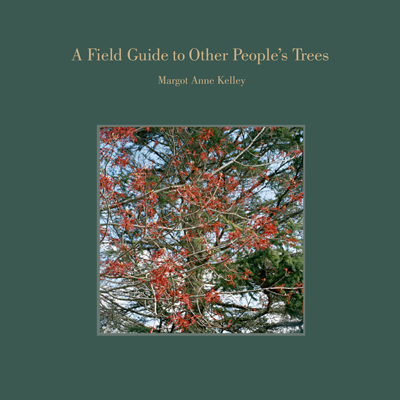 A Field Guide to Other People's Trees
by Margot Anne Kelley


Old houses may not be haunted, but they retain many palpable vestiges of their pasts. And when Margot Anne Kelley and her husband, Rob, moved into an old farmhouse, they inherited that past as well as the property. On their one acre on Maine's mid-coast, they learned much about the history of their home not by visiting the local historical society but by spending time observing the trees, plants, and grasses that had been planted by those who once owned their land. What they discovered is a landscape history that harkens deep into New England's past.

In this field guide to other people's trees, we learn about some of those past owners and their trees. Guided by Kelley's evocative text and gorgeous photographs, we come to appreciate the same lessons that she did—that plants carry the past into the present, that we are part of a rich and interconnected world. In sharing her property with us, Kelley gives us a glimpse of her unique part of New England, encouraging us by her own example to imagine the many gifts we, too, inherit with a house and plot of land.

Intimate and informative, Kelley's field guide is a joy to read and a gift to all who share her love of nature and of place. Like the plants that define her land in Maine, this book invites readers to recognize that we can be fully grounded in our home place.



$40.00 U.S. (trade discount)

No e-book has been authorized.


Clothbound
104 pages with 42 four-color photographs by the author
9.0" x 9.0" horizontal/landscape
ISBN: 978–1–938086–30–4
Published in December 2014
Distributed by Casemate/IPM


www.casemateipm.com
No e-book has been authorized.
Published in association with Fiddlehead Press