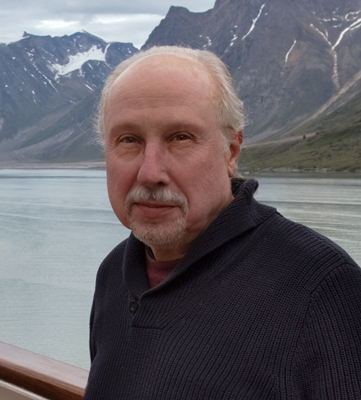 David Freese was born in Mineola, New York, in 1946 and grew up in Garden City, Long Island, New York. He received his bachelor's degree from the University of Rochester in 1968 and, soon after graduation, taught photography in the U.S. Army Signal Corps until 1970. During the following thirty-five years, Freese worked as a freelance assignment photographer shooting corporate/industrial and editorial photography on location. He also worked as a contract photographer for Gamma Liaison in New York City and for Zuma Press in San Clemente, California.
Personal work has always been an ongoing form of expression for Freese, and he now devotes his full attention to various fine-art photography books and projects and to teaching in the Film and Media Arts Department at Temple University, where he received the 2016 Adjunct Faculty Award for his many academic contributions. He has previously taught at Saint Joseph's University, Moore College of Art, and Drexel University—all situated in Philadelphia, Pennsylvania. In 2006, he was the founder and director of the photography degree program at Burlington County College in Pemberton, New Jersey, where he taught for twenty-five years and received the Excellence Award from the National Institute for Staff and Organizational Development for outstanding contributions to teaching, leadership, and learning.
Freese's work has been published in Communication Arts, MIT Technology Review, Philadelphia Inquirer Magazine, Photo District News, Photo Insider, Polaroid International, Popular Photography, Smithsonian Air and Space, Time-Life Books, and View Camera. His photographs are featured on line at LensCulture and the Art Photo Index, and images have been published on line at aPhotoEditor and at Slate Behold, The Photo Blog. His photographs are in the collections of the Allentown Art Museum, Center for Creative Photography, Center for the Study of Place, Cleveland Museum of Art, Crocker Art Museum, Denver Art Museum, Haggerty Museum of Art, Haverford College, James A. Michener Art Museum, Library of Congress, Polaroid Collection, Russian Union of Art Photographers, University of California Berkeley Art Museum/Pacific Film Archive, and University of Wyoming Art Museum as well as in numerous corporate art collections.
Freese has been awarded artist grants in photography by the Ruth and Harold Chenven Foundation and the Puffin Foundation. He has also received a Polaroid Artist Support Grant and both a Fellowship in the Visual Arts and a Special Opportunity Stipend from the Pennsylvania Council on the Arts. He was selected as a participant in the Arctic Circle Expeditionary Residency in 2014. There, he met with twenty-six other artists of varying disciplines in Longyearbyen, Svalbard—a Norwegian archipelago about 800 miles (1,287 kilometers) from the North Pole—where they worked and sailed the islands on a tall ship.
Freese is also a member of the Society for Photographic Education and a former member and president of the Philadelphia Chapter of the American Society of Media Photographers. David Freese resides in Philadelphia, Pennsylvania.
Freese is the photographer/author of West Coast: Bering to Baja and East Coast: Arctic to Tropic. He is also a member of the Society for Photographic Education and a member and former president of the Philadelphia Chapter of the American Society of Media Photographers. David Freese resides in Philadelphia, Pennsylvania, and his Website is www.davidfreesephoto.net.
ABOUT THE ESSAYISTS
Simon Winchester is a journalist and New York Times best-selling author of more than twenty books, including The Perfectionists: How Precision Engineers Created the Modern World (2018), Pacific (2015), The Men Who United the States (2013), Atlantic (2010), The Man Who Loved China (2008), Krakatoa (2003), and The Professor and the Madman (1999). In 2006, Winchester was appointed an Officer of the Order of the British Empire by Queen Elizabeth II for "services to journalism and literature." His Website is www.simonwinchester.com.
Sarah Kennel joined the High Museum in Atlanta in 2019 as the Donald and Marilyn Keough Family Curator of Photography. She previously served as the Byrne Family Curator of Photography at the Peabody Essex Museum in Salem, Massachusetts, and as a curator in the Department of Photographs at the National Gallery of Art in Washington, D.C. She has curated many exhibitions and authored numerous publications, including Charles Marville: Photographer of Paris (2013), In the Darkroom: An Illustrated Guide to Photographic Processes before the Digital Age (2010), and In the Forest of Fontainebleau: Painters and Photographers from Corot to Monet (2008).