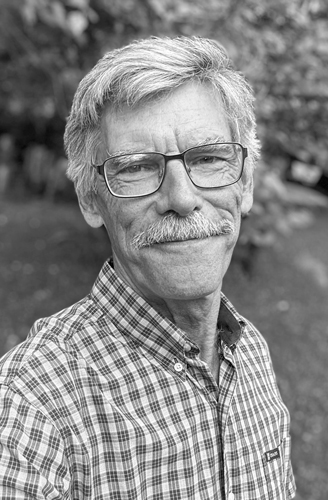 Photography by Bryce Boyer
Kevin Bubriski is a documentary photographer who was born in 1954 in North Adams, Massachusetts. He earned his B.A. in liberal arts at Bowdoin College in 1975 and his M.F.A. in new media at Bennington College in 1997. His photographs are in the permanent collections of numerous museums, including the Bibliothèque Nationale de France, Metropolitan Museum of Art, Museum of Modern Art, and San Francisco Museum of Modern Art. He has received Guggenheim, Fulbright, National Endowment for the Arts, Asian Cultural Council, Hasselblad Masters, and Robert Gardner Peabody Museum fellowships. Bubriski's other books include Portrait of Nepal (Chronicle, 1993), which won the 1993 First Place Golden Light Documentary book award, Power Places of Kathmandu (Inner Traditions/Thames & Hudson, 1995), Pilgrimage: Looking at Ground Zero (powerHouse, 2002), Nepal 1975–2011 (Radius Books/Peabody Museum Press, 2014), Look into My Eyes: Nuevomexicanos por Vida, '81–'83 (Museum of New Mexico Press, 2016), Legacy in Stone: Syria before War (powerHouse, 2018), Our Voices, Our Streets: American Protests 2001–2011 (powerHouse, 2020), and Nepal Earthquake (Himal Books, 2022). His Website is www.kevinbubriski.com.
Tahir Hamut Izgil is a prominent modernist Uyghur poet, filmmaker, and activist who grew up in Kashgar, in China's Xinjiang Uyghur Autonomous Region. He is recognized as one of the foremost poets writing in the Uyghur language. Additionally, he has directed numerous documentaries, music videos, advertisement campaigns, and feature films. Fearing persecution from Chinese authorities, he and his family sought asylum in the United States in 2017. His poetry has been translated into English, Japanese, Swedish, Turkish, and other languages. He is the current Chair of the World Uyghur Writers Union, and his book, Waiting to Be Arrested at Night: A Uyghur Poet's Memoir of China's Genocide, was featured on National Public Radio and The New York Times Book Review.
Dru C. Gladney (1950–2022) was Professor of Anthropology at Pomona College where he also served as President of the Pacific Basin Institute. Gladney was the author of more than 100 academic articles and book chapters on topics spanning the Asian continent, and his books include Dislocating China: Muslims, Minorities, and Other Subaltern Subjects (Chicago, 2004), Ethnic Identity in China: The Making of a Muslim Minority Nationality (Wadsworth, 2003), Making Majorities: Constituting the Nation in Japan, China, Korea, Malaysia, Fiji, Turkey, and the U.S. (Stanford, 1998), and Muslim Chinese: Ethnic Nationalism in the People's Republic (Harvard, 1991).