ARCHIVED EVENTS for A Year in Rock Creek Park: The Wild, Wooded Heart of Washington, DC
April 3
Budbreak at Carderock
Audubon Naturalist Society
March 5
Winter Tree Tour of the Capitol Grounds
United States Botanic Garden
Starts February 27 (Saturdays 9 am-2 pm)
A Year at Boundary Bridge
Audubon Naturalist Society
Registration Required
January 24
Casey Trees: Winter Tree Tour and Ice Skating
National Gallery of Art Sculpture Garden
2015
November 21 from 10am-1:30pm
Rock Creek Park Field Trip

November 18 from 7:30-9pm
Slide presentation and book signing
Historic Takoma, Takoma Park, MD
November 14 from 10am - 1pm
Fall Tree Tour of the Capitol Grounds

November 11
Fall Hike on Sugarloaf Mountain
November 8
Politics & Prose Walking Tour
November 7
Boundary Bridge Walk Lead by Melani Choukas-Bradley
September 27 from 11 a.m. - 3 p.m.
Talk and book signing, 125th Anniversary of Rock Creek Park
National Park Service
September 23 from 10 a.m. - 2 p.m.
Audubon Naturalist Society
125th Anniversary of Rock Creek Park and the 80th birthday of Boundary Bridge Hike
July 30
US Botanic Garden
Trees of the Regional Garden Tour
July 13 at 1:30 p.m.
Cosmos Club
Literary Conversation Series: A Year in Rock Creek Park
July 8 - July 29, Wednesdays, 7-9:30 p.m.
Co-Sponsored by the Graduate School USA and the Audubon Naturalist Society
Natural History Field Studies Program: Summer Wildflower Identification
June 28
Casey Trees
Tree Tour: Summer in Rock Creek Park 125th
Anniversary Hike
June 27 from 9 a.m. - noon
Audubon Naturalist Society
A Year at Boundary Bridge Hike
June 12
United States Botanic Garden Conservatory
Lecture: A Year in Rock Creek Park
June 6 (sold-out)
Rock Creek Park walking tour for Politics and Prose
May 20
The Westchester, Washington, DC
Presentation and book signing
May 16
Gaithersburg Maryland Book Festival
April 27
Trowel Garden Club presentation and book signing
April 24
A Rock Creek Conservancy nature walk
April 22
DC Public Library, Chevy Chase Branch
Earth Day presentation and book signing
April 12
Casey Trees 125th anniversary hike; additional hikes on February 1, June 28 and November 1.
(All four hikes sold out through 2015—30 people for each hike—and each receives a softcover copy of the book.)
April 7
Junior League of Washington, DC Garden Club
Presentation and book signing
March 25
Casey Trees "Canopy Connection Symposium: Urban Forests for Public Good," the Carnegie Institute for Science
Presentation (Rock Creek Park and City of Trees)
March 14 from 10:00am-noon
National Zoo Visitor's Center Auditorium, 3001 Connecticut Ave NW, Washington, DC
Presentation as part of the 'Rock Creek Park is Your Backyard' program to celebrate the 125th anniversary of the park
March 12
NARFE (National Active & Retired Federal Employees), Margaret Schweinhaut Senior Center, Silver Spring
Presentation and book signing
March 10
Chevy Chase Garden Club, Chevy Chase Village Hall
Presentation and book signing
March 7 (Full)
Virginia Native Plant Society Potowmack Chapter field trip, Rock Creek Park, with Susan Austin Roth
Monday, March 2
Busboys & Poets Takoma (co-sponsored by Politics & Prose)
Presentation and book signing
Saturday, February 28 (sold out; future forays: April 11, June 27 and November 7)
"A Year at Boundary Bridge" nature foray in Rock Creek Park for Audubon Naturalist Society
Thursday, February 12, from 7:30-9:00pm
Green Spring Gardens, Alexandria, VA
Book talk and signing
Sunday, February 8, 10:10-10:55am
Chalice House, Cedar Lane Unitarian Universalist Church, MD
Book talk
Thursday, December 11, 2014
Woodend Sanctuary, Audubon Naturalist Society, Chevy Chase, MD
Book Party at the Bookshop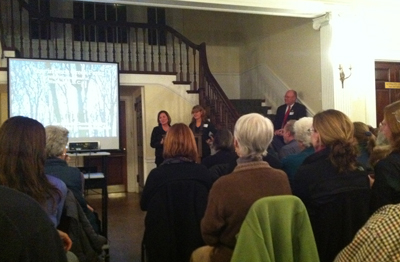 Melanie Choukas-Bradley and Susan Roth present a joint reading and
presentation of their book to a standing-room-only crowd. Photo by George F. Thompson.
Sunday, December 7, , 2014, from 2-4:00pm
Smithsonian's National Museum of Natural History
Book signing outside the museum store
Sunday, November 23, , 2014, 4:00pm
Chevy Chase Historical Society, MD
Book talk: "Rock Creek Park, Chevy Chase's Wild, Wooded Neighbor"
Wednesday, November 5, 2014, 7:30am-4pm
Silver Spring Civic Center, Silver Spring, MD
Trees Matter Symposium: Trees and the Built Environment
Thursday, July 10, 2014 at 7 p.m.
DC Public Library, Washington, D.C.
Book talk